Berlin, Germany (Weltexpress). What was an interesting match-up in the first half (47-47), later led to a second half blow out. Alba Berlin capitalized on its young guns, outscoring Jena in the third and fourth quarter with 53 points to Jena's 20. Science City Jena with former Alba Berlin greats leading the team – Julius Jenkins, Derrick Allen and Immanuel McElroy boosted the feel good factor, but it was not enough to beat a strong Alba team.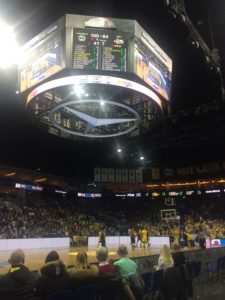 Alba's shooting, defensive play and deep bench proved to be no match for Jena. Alba's Luke Sikma led all scorers with 19 points, followed by Marius Grigonis 14, Joshiko Sabou 12, Stefan Peno and Tim Schneider both had 10.
Jena's 20 combined points in the 3rd and 4th quarter is a season low in the statistics category. Leading scorers for the visitors were – Julius Jenkins with 12, Skyler Bowlin 11 and Brandon Spearman added 10.
The Mercedes Benz Arena, pre-Christmas game was attended by 8959 spirited fans. Despite Alba's lopsided victory, the game was filled with excellent basketball – fast breaks, Big 3s, dunks and great defense.
Alba Berlin remains in contention for the league title. Sitting in second place in league standings, the remainder of the season will be prove to highly competitive and exciting.
If you're in Berlin and love the game, you'll have to attend an Alba Berlin Basketball game!