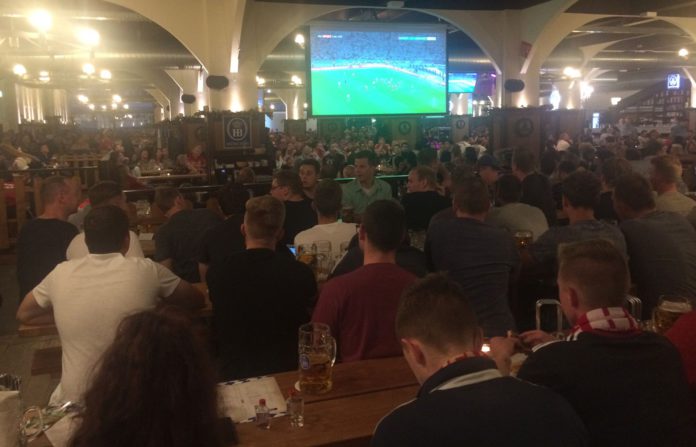 Berlin, Germany (Weltexpress). Remember that legend of the Israelite David, who defeated the giant Goliath in a battle during the war against the Philistines? David is said to have only held up a slingshot to fight Goliath, who came with a sword, a spear and a javelin, and a bearer for his large shield. David, however, took a stone out of his pocket, put it in the slingshot and hurled it with full force. The stone hit Goliath on the head – and the huge fellow fell dead. When the Philistine army saw that their largest and best soldier was killed, they turned and ran from the battlefield.
Quite different but in some way similar was the contest between Eintracht Frankfurt and FC Bayern München. First is considered to be the soccer giant of the Bundesliga. A record champ, of whom nobody can keep hold of how many championships that famous football company from Munich has already won, arrived at the Olympic Stadium in Berlin, where the cup final was played on Saturday, 19 May 2018, with more then a dozen cup victories to its credit. Eintracht on the other side had neither won a cup nor a championship, so the feeling. In any case, only a few odd oldies could remember giant former achievements.
The Davids were Eintracht players like Kevin Prince Boateng and Ante Rebic this time. One held the team together and on the go, the other scored twice: two goals to 3: 1 (1: 0) sensational success – for the passes to Rebic came from Boateng.
Good going: even though Eintracht just came to a bit more then a handful of goal scoring opportunities, while Bayern earned nearly two dozen chances. Including possibilities of Thomas Müller (17.), Joshua Kimmich (24.) and Robert Lewandowski (26.).
And that the team coached by FCB head coach Josef Heynckes for the very last time had ball possession of 77%, according to DFB statistics after 90 minutes plus all sorts of minutes after time, was for many observers of the encounter quite a surprise.
Willing and wishing is not enough, you also have to want to win. And wanting has to be learned and forced. The Hessians really wanted to be victorious you could see that, read it in the faces of Boateng and Rebic from the beginning. They were committed to the game and the victory. During the photo session they left the referees and the Bayern players wait like little children.
In the field of honour the Hessians acted like David on the battlefield. They fought, they engaged in duels, they played body minded, they ran for their lives, they fouled, they got four yellow cards. Football can be so easy. And they took the pot, with no frills in the game. To the no-frills belongs a double pass, with which one makes every opponent wet. Right, Boateng and Rebic served this shower to Bayern. The Bavarians downplayed their boots and the Hessians threw stones at their heads a few times. Three of them hit the bull's eye.
Although Eintracht Frankfurt came on the field in the battle formation 4-1-4-1, early pressure on Bayern alternated their line up to a 5-4-1. Kovac distinguished himself as a tactician who changed his team several times. After the 1:1 equaliser by Robert Lewandowski, for example, he ordered Rebic in the spearhead and sent Boateng with all the freedom of a classic Libero to the rear.
"Let people do what they can if they want to" was the motto of Otto Rehhagel, who celebrated with Bremen and Kaiserslautern and Greece successes not considered possible. That motto both the Bayern-Eleven and the Bayern coach lacked. Munich played again without a motto. That's why it was not enough against Real Madrid – or Eintracht Frankfurt, for that matter.
This triumph, the first for Eintracht since 1988, when Lajos Détári scored, for the now declared outsider Eintracht, who competed without football god Alexander Meier, because Eintracht coach Nico Kovac, who on 1 July 2018 changes to Bayern Munich as head coach, threw him out of the squad, is "worthy of respect", as even Kovac explained after the Cup.
Now you do not have to make the players and coaches of Eintracht equally wealthy and give your own daughter to wife, as Saul, king of Israel did with David, but more than 'Äppelwoi' in a 'Bembel' as a toast should be shown in generosity. And it will: yesterday, the victory of David against Goliath in Berlin was celebrated best of all in the Hofbräu München, Wirtshaus Berlin, and today in Frankfurt the crowds will be there to cheer as if it were a royal wedding.
For the record
Match: Bayern München – Eintracht Frankfurt 1:3 (0:1)
Goals: 0: 1 Rebic (11.), 1:1 Lewandowski (53.), 1:2 Rebic (82.) and 1:3 Gacinovic (90. + 6.)
FC Bayern München: Ulreich – Alaba, Hummels, Süle, Kimmich – Thiago (64. Tolisso), Martínez, James – Ribéry (87. Wagner), Lewandowski, Müller (70. Coman)
Eintracht Frankfurt: Hradecky – Willems, Salcedo, Abraham, da Costa – Hasebe – Rebic (89. Haller) , de Guzman (74. Russ), Mascarell, Wolf (60. Gacinovic) – Boateng
Spectators: 76,322 (stadium sold out)
Referee: Felix Zwayer
Yellow cards: Lewandowski, Coman / Salcedo, Willems, Hasebe, Gacinovic
* * *
Christopher Prescott based on a text by Ralf-Rüdiger Okudera.