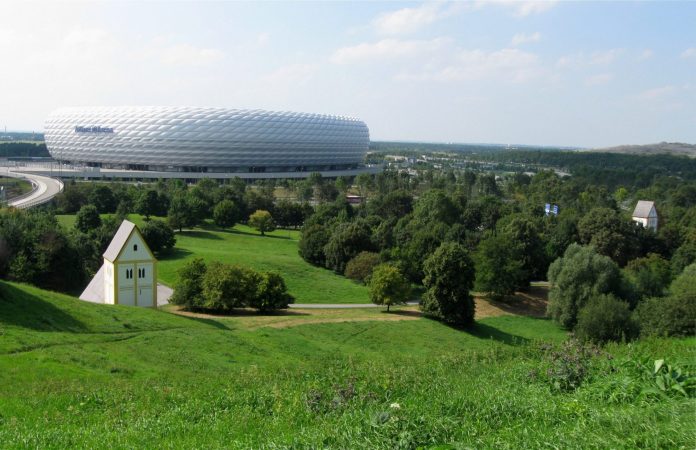 Munich, Bavaria (Weltexpress). Players of FC Bayern München had three great opportunities Wednesday night in the game against Tottenham Hotspur in front of 70,000 spectators in the "Kaiserklo" stadium on Fröttmaninger Berg in the first quarter of an hour. Once the round one went into the square one.
Kingsley Coman, who replaced Mario Gomez, at long last scored again with his 1-0 (14). for Bayern München. He jumped up and was happy. A little later he jumped again (24). A self-injury forced him first into the air and then onto the floor. Coman's left knee buckled.
It was as quiet as usual in the stadium, but this time this was even more heard than usual. Now he will be out for a while, the Coman, so again he will not be able to score goals. A capsule tear in the left knee, a strained biceps tendon and a compressed joint force the Frenchman in service of FC Bayern München AG to act thus.
Before this misfortune, Ryan Sessegnon scored the 1-1 equalizer (20). The Spurs needed a chance for that goal. Jerome Boateng neither looked smart, good, or happy going for his trivial tackle. Otherwise, the defender obviously played the ball back to Bayern boss goalkeeper Manuel Neuer more often than towards the opposing penalty area. Wrong way round forever?
Not really, but he and others continued to look coarse yesterday, too sluggish. That will hardly be enough for higher tasks in the event called the UEFA Champions League (CL) and certainly not for the first Bundesliga.
Some fans of Bayern find it difficult to spot their team in the chart down there as teams like 1. FC Union Berlin now taking a big leap to overtake Bayern look as if they might succeed.
Back to the game that the hosts managed to win because Thomas Müller (45.) and Philippe Coutinho (64.) hit again. Final score in the second leg: 3: 1. While the first 45 minutes plus injury time were eventful, the second 45 minutes plus injury time were rather event-less. Silent night, but not bright – and the stadium emptied itself around the 90th minute almost as fast as a toilet flush. Typical Bayern Munich.
After all, the Spurs were not led by the Bavarians to the sewage treatment plant under their new head coach José Mourinho, as was the case in Munich's 7-2 victory in the first leg in London.
At FC Bayern, everyone can now be happy after the 3-1 lead in the last encounter of CL Group B to have won every single one of the six games in the group phase.
Remark:
Christopher Prescott based on a text by Ralf-Rüdiger Okudera.