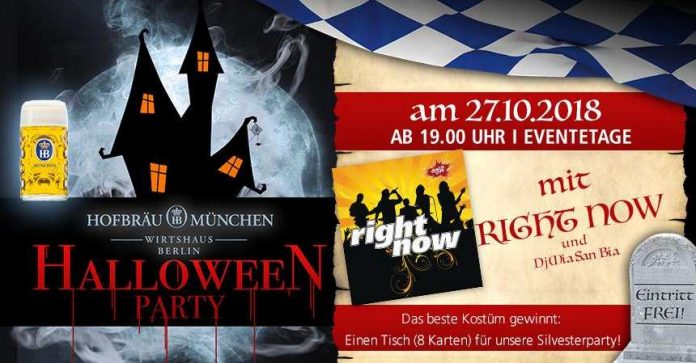 Berlin, Germany (Weltexpress). Halloween could actually be celebrated in an Irish pub. Really! The custom in the evening and the night before the Christian Solemnity of All Saints, which is traditionally celebrated on November 1, is said to have its origins in the extremely Catholic Ireland.
Irishmen who emigrated from the United Kingdom of Great Britain and so forth to the United States of America brought the custom from their homeland to the New World. Yes, the Irish had to fight for freedom. 1949 time had come. Large areas of Ireland left the Commonwealth of Nations, however six Irish counties in the North remained in the UK.
Even today, the Irish like to scare the Brits on Halloween. Irish immigrants in the US cultivated their customs and traditions transmitted from generation to generation during the Celtic period, with such a passion that they were passed on by time to other people from other countries. Some of these customs were changed and complemented with customs of other ethnic groups.
At least since the beginning of the 90s of the 20th century, the Halloween customs spilled back across the Atlantic and far into Europe. Halloween has long been a fixed date in the cultural calendar of many world cities.
Berlin's biggest Halloween party will take place on October 27, 2018 from 7 pm onward at Hofbräu München, Wirtshaus Berlin.
For all the chicken-hearted and honourable court-goers of horror, this year there's a scary-beautiful Halloween party on the event floor again. Murderous fun is provided by the party band "Right Now" that will teach those still alive and kicking to dance and to celebrate the scariest night of the year with you until the wee hours of the morning. Irish and those who want to be, are also invited!
If you're not scary enough, the make-up team can turn you into sinister vampires, creepy white ghosts, and crazy witches. The transformation artists are certainly happy about sweets as a treat. Otherwise they are sure to pick on you with a sour trick, and give you the creeps!
Hofbräu München, Wirtshaus Berlin
Karl-Liebknecht-Str. 30, 10178 Berlin
Book a place for an evening full of goose bumps moments by calling 030/679665520 or by e-mail at reservierung@berlin-hofbraeu.de.
Christopher Prescott based on a text by Ole Bolle.