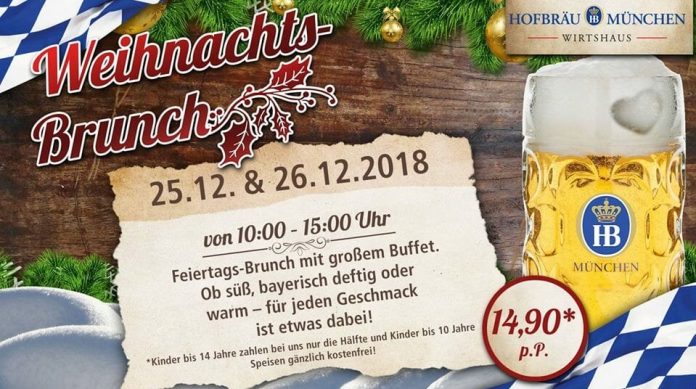 Berlin, Germany (Weltexpress). If you forgot to buy a turkey or if it flew off to Turkey then this is just the place in Berlin to brunch from late morning until well into the afternoon.
In the Hofbräu München Wirtshaus Berlin, the best of Bavaria is combined from breakfast and lunch on buffet tables and spiced with a pinch of Christmas. Whether sweet or hearty, cold or warm, there should be something for every taste at a big holiday feast on 25 and 26 December 2018 from 10 am to 3 pm, which is aptly called Christmas or Xmas brunch.
Basically, a complete Bavarian brunch is offered, which usually includes bread and bread rolls, pretzels and butter croissants, sausages and cheeses, scrambled eggs, antipasti and all kinds of salads, dumplings, potato gratin and rosemary potatoes, sour and red cabbage, Turkey pieces in a gravy, white sausage and sweet mustard, Nuremberg sausage, roast in beer sauce, pieces of sticks, Leberkäs, Fleischpflanzerl, roast pork, pasta dishes and Matjes. And you never run out of sauce as it is served again and again.
On top of that, for dessert, look out for healthy fruits, cakes, rice pudding, red porridge with vanilla sauce, chocolate and vanilla pudding plus probably the best choice here: Bavarian cream.
You may eat as much as you can, until it comes out of the ears again – as a Bavarian expression goes, we are told.
Children up to the age of 14 pay only half at the Hofbräu München Wirtshaus Berlin and children up to the age of 10 eat completely free of charge. For everyone else, this years Xmas brunch costs 14.90 Euro per person.
Hofbräu München Wirtshaus Berlin
Karl-Liebknecht-Strasse 30, 10178 Berlin
Web: www.hofbraeu-wirtshaus.de/berlin
Reservation: Phone: 0049 (0) 30 679 66 55 20, E-Mail: reservierung@berlin-hofbraeu.de
Christmas brunch: December 25 and 26, 2018 from 10am to 3pm
Christopher Prescott based on a text by Kerstin-Bettina Kaiser.