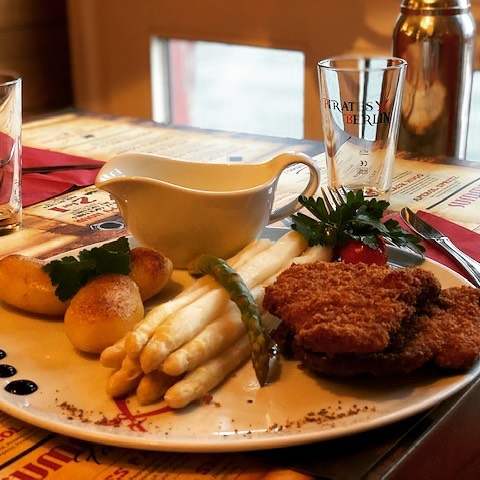 Berlin, Germany (Weltexpress). Top on the map for these royal veggies is Pirates Berlin, located directly on the Spree between the river and East Side Gallery and in asparagus throwing distance to Oberbaumbrücke connecting Friedrichshain and Kreuzberg, with a special card in a buccaneering look for you to loot edible ivory.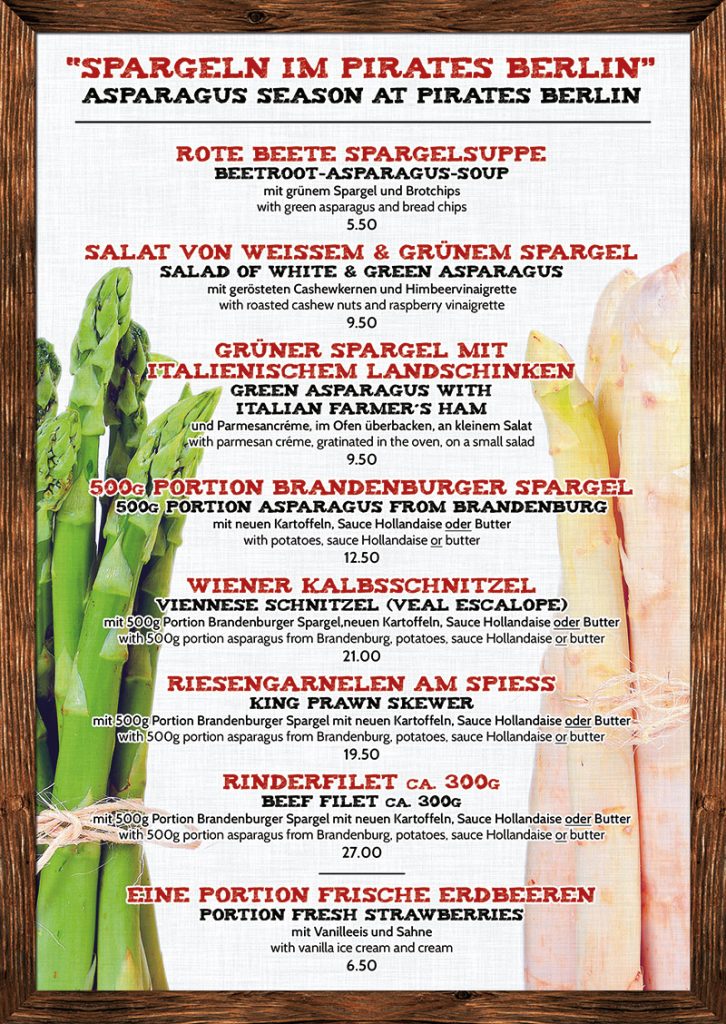 The edible ivory comes from Brandenburg and is freshly prepared with other ingredients. Ingredients? Preparation? The vegetables are not a side dish, but a main dish and that is what matters here. Therefore at Pirates Berlin they serve these strong sticks without any fancy stuff, pure or with new potatoes and sauce hollandaise or butter – the real thing then!
Who apart from 500 grams of Brandenburg asparagus, considered being a noble vegetable because of the quite complex harvest and the low yield per root (which is why the prices, especially in the first harvest days the connoisseurs often add pain to the stomach) wants more can choose Viennese veal schnitzel in addition. There are two of them on the big white plate. Great.
Right, the white asparagus also goes well with beef fillet (300 gr. a piece) or with king prawns on the spit.
Asparagus is gusto fun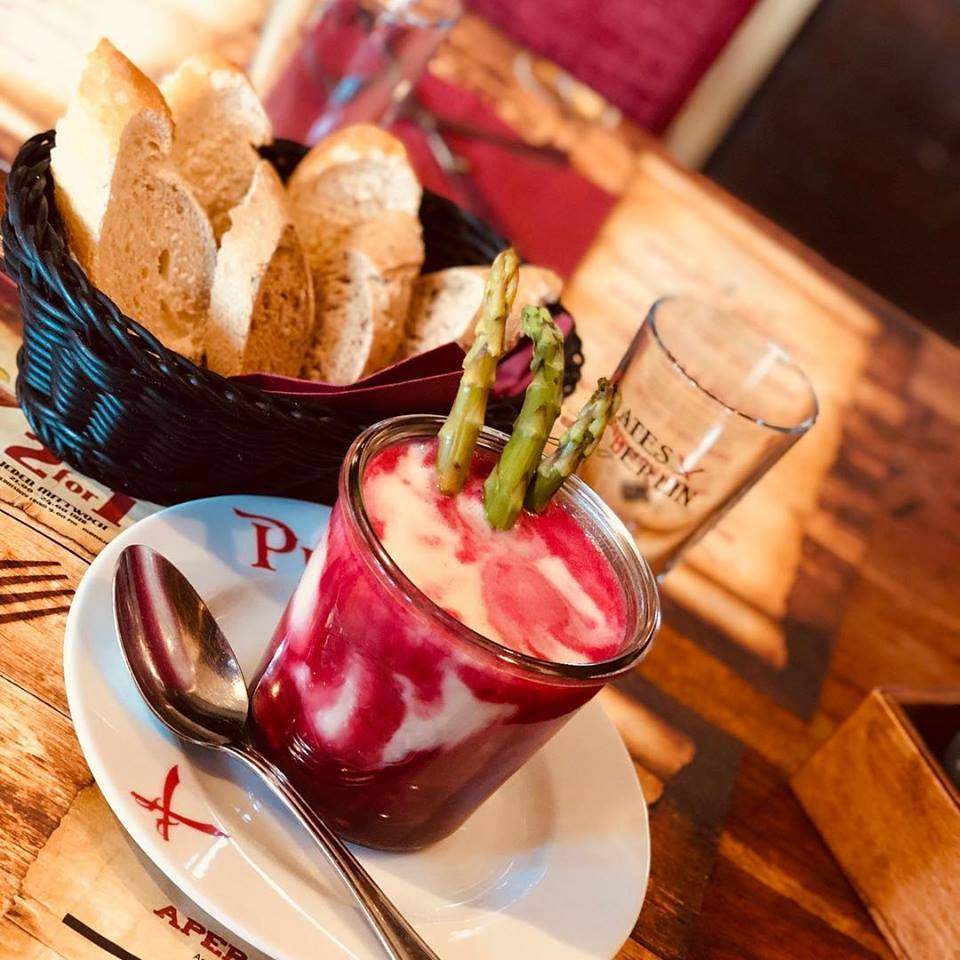 and healthy, as the shoots maybe originating from Mesopotamia detoxify and also are full of protein, fibre, numerous vitamins and minerals, but hardly any calories. They come with all that meat and sausages and sauces.
Highly recommended is the salad with white and green asparagus. It contains roasted cashew kernels. The vinaigrette is not just a cold sauce of vinegar, oil and salt, but a cool one, namely with raspberries. It does not just look good, it tastes that way.
But a feast for the eyes and a culinary delight is the asparagus cream soup with beetroot. The double taste experience, in which small slices of white and sunlit chlorophyll green asparagus romp, is served in a mason jar – in our case with a glazed tomato on the jar lid and a toasted bread slice, but also fresh bread in the basket.
A knockout is also the dish only with green asparagus and Italian ham, because the vegetables are baked in the oven with Parmesan cream. Delicious.
Be sure to try it at
Pirates Berlin
Address: Mühlenstraße 78-80, 10243 Berlin, Germany
Contact: Telephone (reservation): +49 (0) 30 – 97 00 24 14, E-Mail (reservation): reservierung@piratesberlin.com
Web: piratesberlin.com
Facebook: https://www.facebook.com/pirates.berlin
Opening hours:
Dress code: casual wear, cool and cheeky, chic and charming
Remark
Christopher Prescott based on a text by Ole Bolle.