Berlin, Germany; Setúbal, Portugal (Weltexpress). Nicko Cruises Schiffsreisen GmbH, based in Stuttgart, announced in a press release dated March 3, 2021 that the cruise ship "Vasco da Gama", which was put into service in 1993 as "Statendam" for the Holland-America Line, is in the Lisnave shipyard "near Lisbon … being prepared for its use from May onward".
"Extensive technical and optical reconstruction measures" are in progress so that the "Vasco da Gama" with its home port Madeira and under the Portuguese flag can sail as a new addition to the Nicko Cruises fleet. "With a sum in the double-digit million range", "Nicko Cruises' sister company, Mystic Cruises, would invest in sustainable and future-oriented travel". Something you not only like to hear at the Lisnave shipyard in Setúbal, south of Lisbon.
The 219-meter-long and 31-meter-wide cruise ship, with a draft of 7.80 meters, will not only have a new exterior painting, but also a new colour concept – and new technology to "meet the latest environmental requirements" as Guideo Laukamp, Managing Director of Nicko Cruises Schiffsreisen GmbH, noted at a press conference on March 10, 2021. According to Laukamp, ​​the "diesel-electric motors that are operated with sulphur reduced MGO (Marine Gasoil)" received "an SCR catalytic converter in which urea is used to neutralize nitrogen oxides by means of a selective catalytic reduction". The Nicko Cruises press release states: "This reduces nitrogen oxides by up to 95 per cent. The SCR catalytic converter on board the 'Vasco da Gama' complies with the so-called TIER III level of the emissions regulations of the International Maritime Organization (IMO), which, as a specialized agency of the United Nations within the framework of the MARPOL Convention, has set itself the goal to reduce marine pollution caused by shipping. The SCR catalytic converter used on 'Vasco da Gama' clearly exceeds the current requirements for environmental protection in sensitive areas such as the North and Baltic Seas and this year it is already well above the requirements that will be mandatory from 2025 when cruising along Norwegian coastal landscapes."
The wastewater treatment system will also be renewed. Biological wastewater treatment will soon apply on board without the consumption of chemicals. "What remains" would be "treated wastewater that achieves bathing water quality".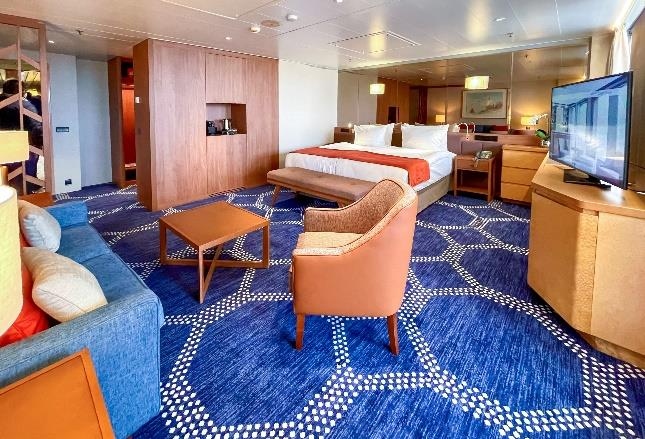 In addition to some new paint, a new colour concept and new technology, there will also be a new "look for cabins, suites and balconies." The cabins will be given a fresh design and will be fitted with new carpets, sofas and armchairs. Colour-coordinated curtains, duvet covers and pillows complete the redesign of the cabins. The bathtubs are supplemented with a glass protection. All cabins and suites will also be equipped with new TV sets. All 29 suites receive a complete make over. The balconies and verandas light up with new furniture in a chic shine – in time for you to step on board from May onward.