Berlin, Germany (Weltexpress). Whoever talks about the "Mani in Pasta" in the Markthalle Neun in Berlin-Kreuzberg should not be silent about the restaurant "Mani in Pasta" in the Reichenberger Straße, also in that part of Kreuzberg known as 36. Here and there, "handmade pasta – created by a get-together of two chefs and a sound engineer" is at your choice, as it says on the home page of Markthalle Neun about "Mani in Pasta".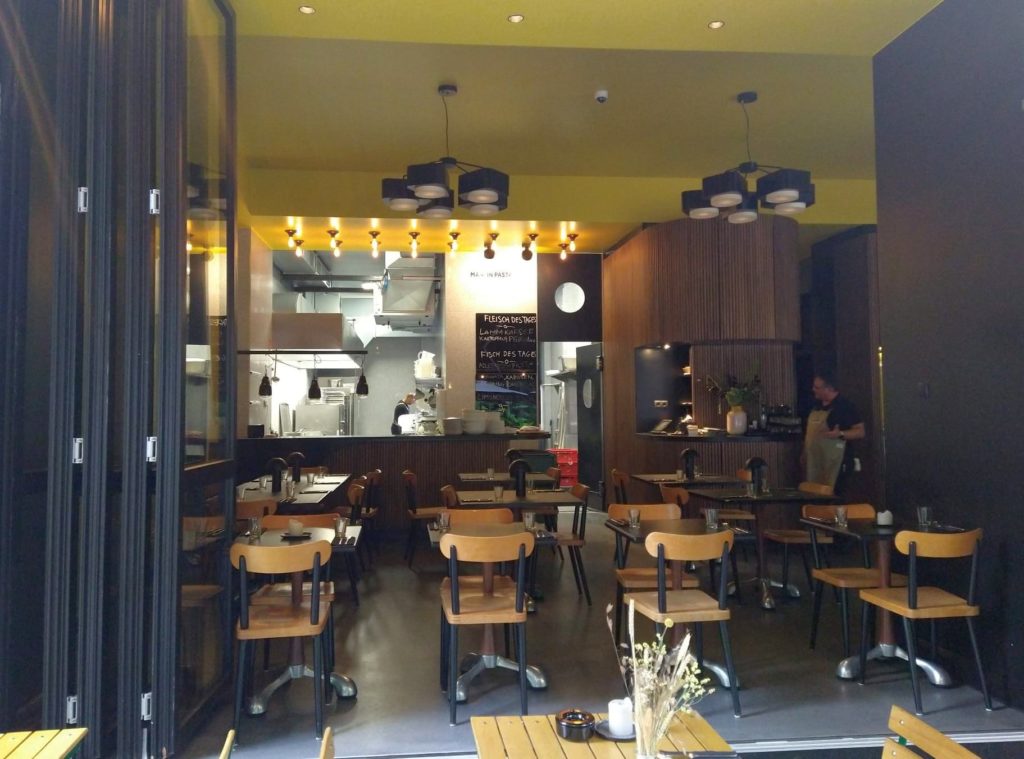 It also states: "After many adventures around Europe, the brothers Angelo and Gioacchino Celona with their good friend Lorenzo Corisi found each other again in Berlin. Angelo is the pasta master; he has already made a name for himself as the man who brings the best Sicilian cuisine to Berlin. His younger brother Gioacchino, who has a special fondness for seasonal dishes, already cooked in the WAU and Herr Rossi restaurants. Lorenzo Corisi is responsible for everything that happens behind the scenes." At the moment he is happy to have become a father. He now sees a baby growing and thriving and not just "from water and flour … the beloved macaroni being made".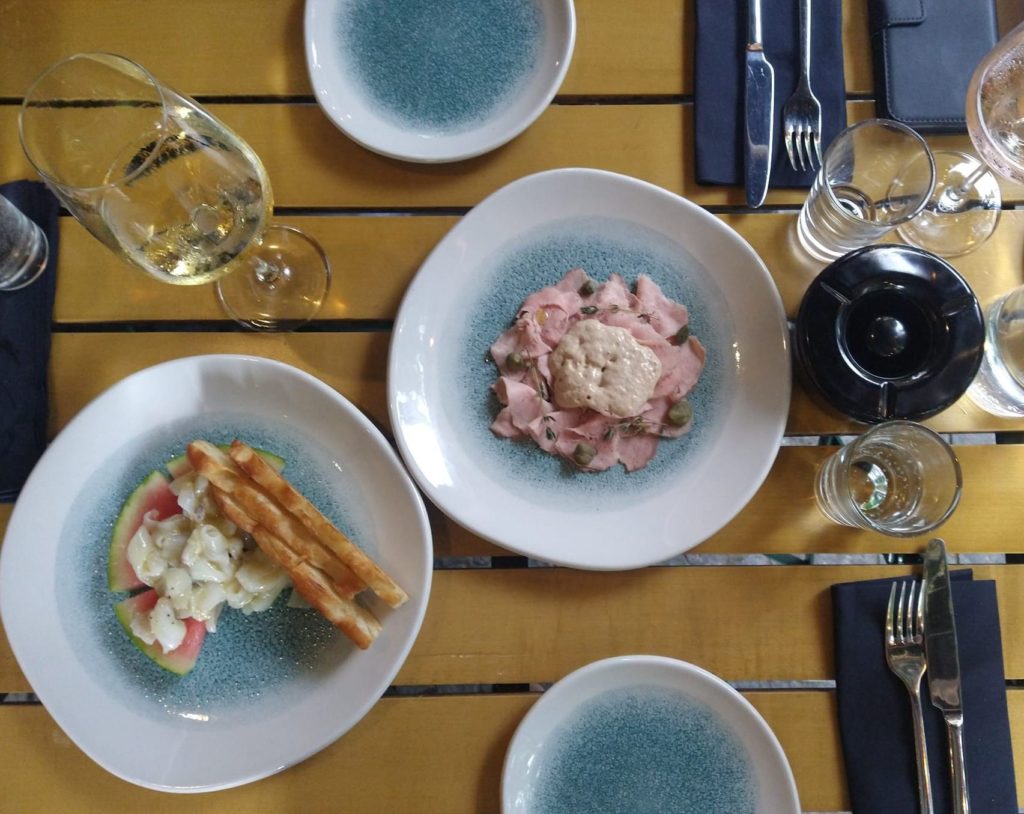 In "Mani in Pasta" you can see the creation of stunning dishes because the kitchen area is open to view. While meals are being prepared in the show kitchen, we, who were invited by the three restaurateurs from Mani in Pasta GmbH, drink an aperitivo. Then three menus are served, entitled "Menu #1 – vegetarian", "Menu #2 – meat" and "Menu #3 – fish". Great stuff.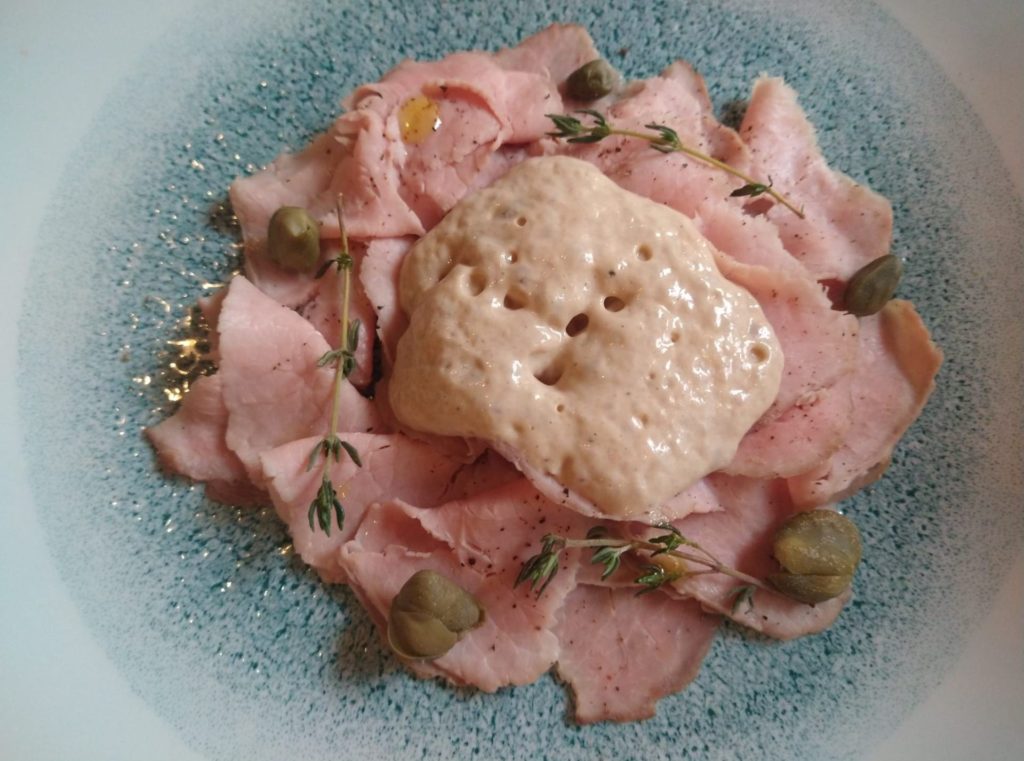 Before we enjoy these new four-course menus, we three ar in for atreat nicely named "Amuse-Busche". Then its Vitello Tonnato for one and marinated watermelon squid for the two colleagues. With its red colour and fruity taste, the refreshing citrus cucumber goes well with a very moderate taste of coleoids. The vegetarian version is "Burrata, Strawberries and Dried Fruits".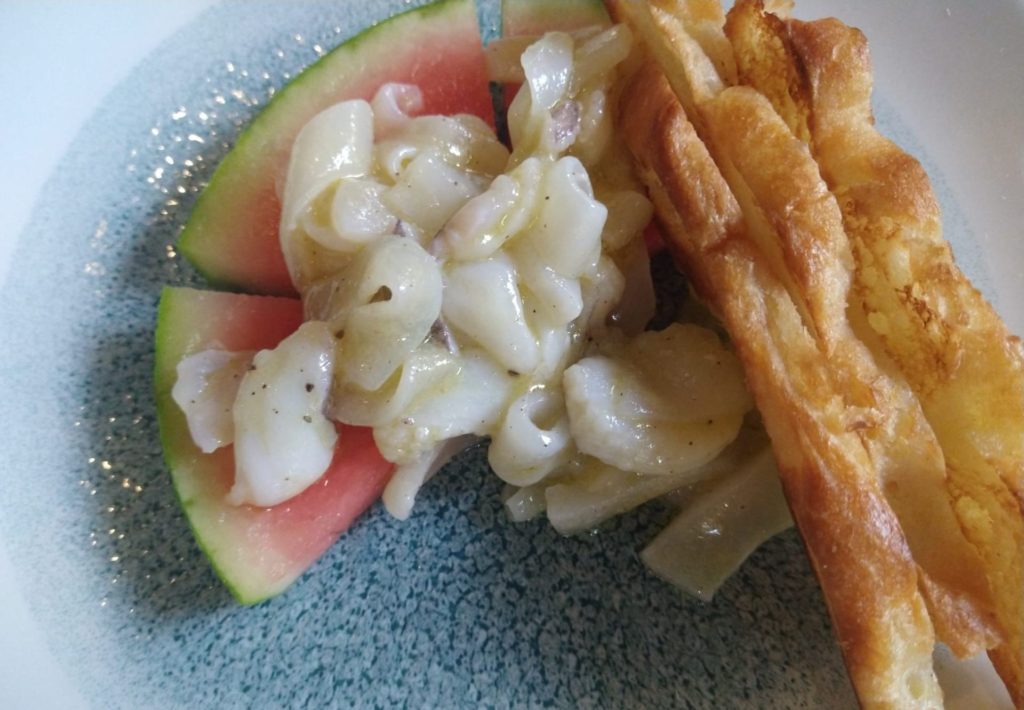 After "greetings from the kitchen" and antipasta, there is a round of primo piatto and then of secondo piatto. Pasta as taglierino with chanterelles and caciocavallo, a classic among Italian cheeses, which delights better eaters with its typical pear shape and its mild, almost sweet taste, pasta as spaghetti with guanciale, rucola as well as tomato cofit and pasta as spaghetti chitarra with bottarga, zucchini cream and breadcrumbs lemons are served and enjoyed. Bottarga is well-known to connoisseurs as a dish that in Bella Italia consists of the roe of the large-headed mullet mugil cephalus. The salted roe goes well with this special type of pasta, spaghetti alla chitarra, i.e. rather flat, square spaghetti. Roe is a right choice. It doesn't always have to be cooked prawns, which only taste sweet and sometimes have a minimal mineral taste. So we are impressed by our great dishes.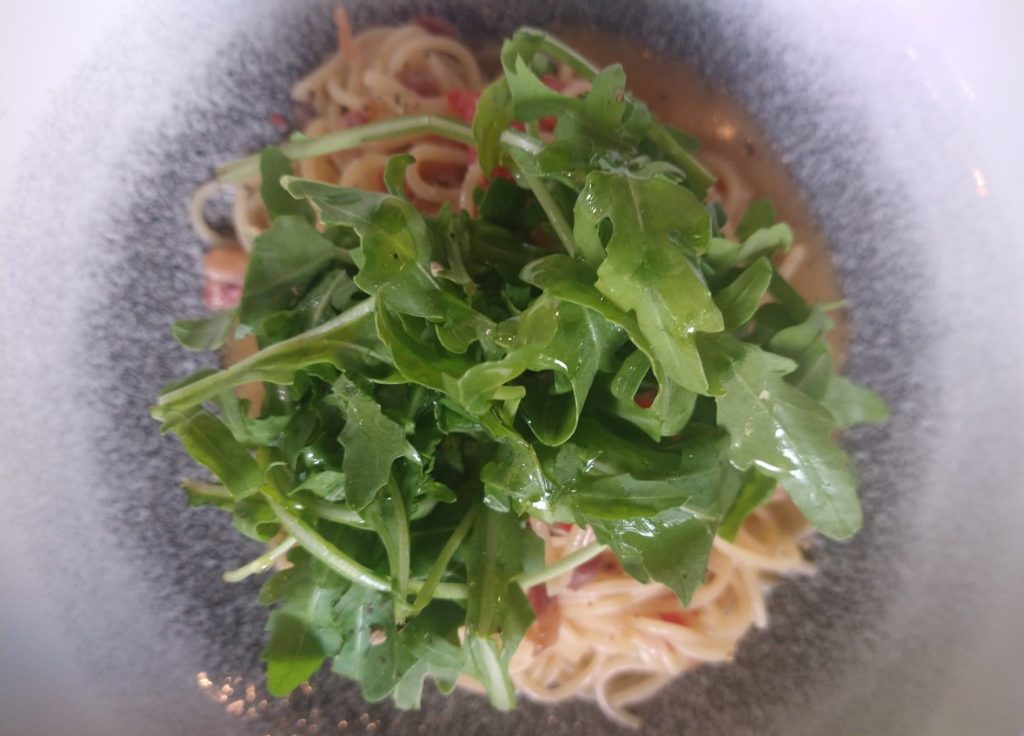 This is followed by the fish of the day, the meat of the day and the vegetarian of the day. A calf and therefore a young animal lost its life for the meat, while the round ravioli were stuffed with zucchini, goat cheese and mint, and with yellow tomatoes, which matched the interior of the restaurant where black, yellow and brown are dominant and lit up now at sunset. The sauce, by the way, is not only sweet and fruity, but also well seasoned.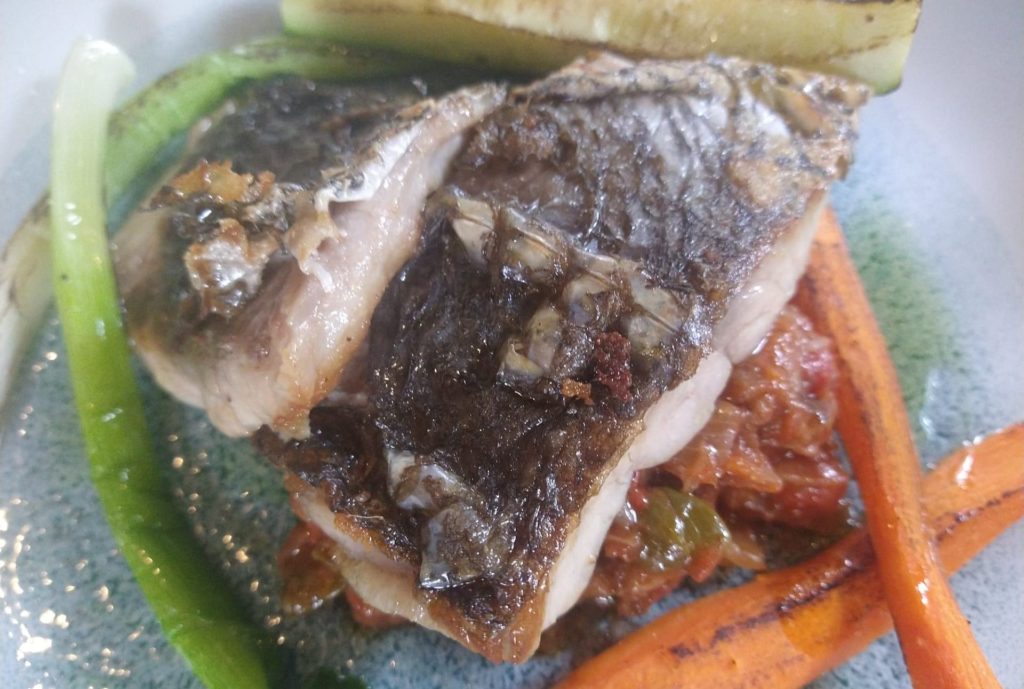 The crowning glory of a four-course menu in the Ristorante "Mani in Pasta" with accompanying wines is the dessert. Strawberry mousse and amaretti biscuits are given, and a crème brûlée with black cherry and thyme. The thyme adds a bitter note to the confectionery and the black cherry adds a bit of a spicy and slightly sour taste. Hooray! No question: In the restaurant on Reichenberger Strasse, good "tastes of Mediterranean cuisine" were brought to the table. And we loved everything! Then, to finish, a digestivo!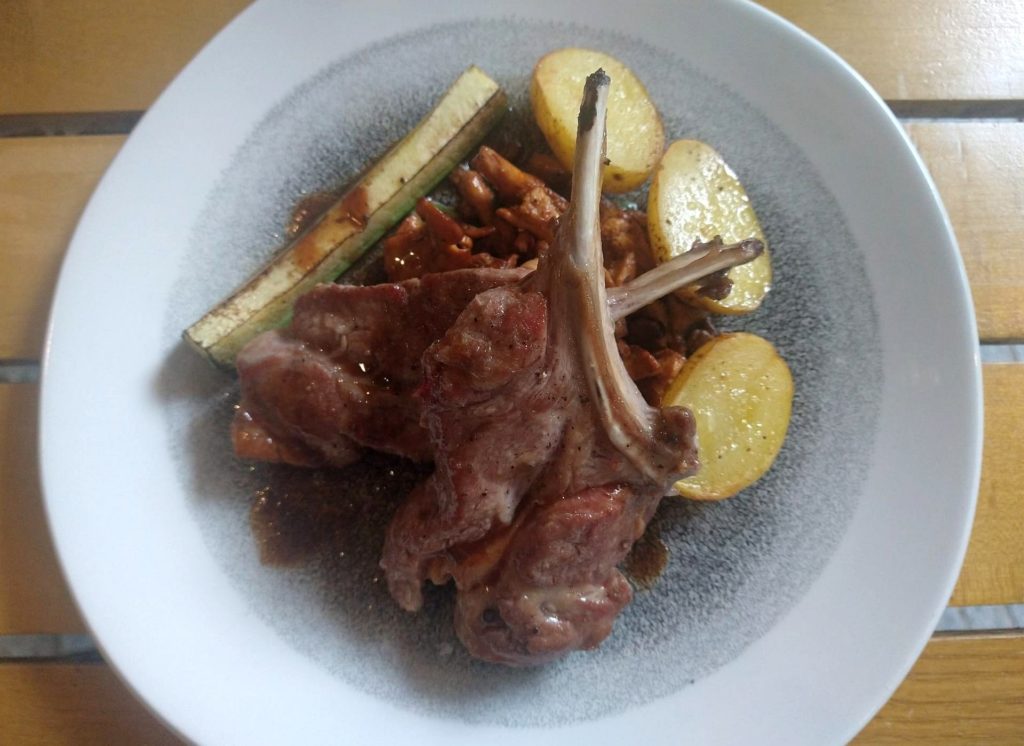 In other words: the sun will shine and we will return to dine at the
Mani in Pasta
Adress: Reichenberger Straße 125, 10999 Berlin-Kreuzberg, Germany
E-mail: dining@maniinpasta.de
Website: maniinpasta.de
Opening hours: Tuesday to Thursday 6 pm to 10.30 pm, Friday and Saturday 6 pm to 11 pm
Remark:
The above post by Ole Bolle has been translated into English by Christopher Prescott.