Berlin, Germany (Weltexpress). In a city like this, with hundreds of places to eat, drink and be merry (and with millions of tourists on the look out) a name that rings a bell ist the starter if you intend to open up a new resto. So, criss-crossing Kreuzberg one fine evening, we came by this vegetarian place from down under. But no, can't be, with a cow in front – or ist it there only to milk? "He hears to Hermann" guests exclaimed. Baffled, we asked an Herr in alpine dress what's it all about. And heard some weird story of some Austrians who were taken for Australians because somebody did not understand… Enter then into this friendly place, the Homeland of Wiener Schnitzel, Kaiserschmarrn and other well or less known genuine delights.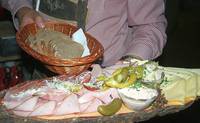 Ring the cow bell at the doorstep and take a dangling seat at the bar to order. Look around, touch wood: it's real this alpine cabin taken out of Salzburger Land, well preserved and marvelled at by some gigglish Chinese who take turns in beating the hammer into the nails of a split trunk (yes, they have "Highland Games" down there to their liking). Let yourself be lifted up, see, ski and skim through the menu while a dirndled waitress directs your eyes to all it can offer. Quite something. Not only are there some great beers well served – do try the "Zwickel", tasty even as a "Baby-Pfiff" (0,125 litre). Pardon? To beat that, great care is taken to place on the table authentic food – for instance, the meat you eat comes from the Metzgerei Albinger in Oberndorf, not so far from where the cabin used to be. And the cook of course is from the alpine republic.
Whatever you choose, you wont leave the place still feeling hungry! Just take a look at this really savoury "Brettljause" with lots of nourishing juniper ham, home-made bread und heaps of hearty cheese – at a very reasonable price. Some of us remain smokers, and they will enjoy their lift cabin snug outside. None of us can in the end refrain from looking for the loo. Here, it's as if you were walking through a zoo, or at least a wood with birds chirping and pecking, even tweeting… If you have a sense of humour, "No Kangaroo" ist the right place to go to in a nice Kiez of cosmopolitan Kreuzberg.
* * *
No Kangaroo, Muskauerstraße 13, 10997 Berlin