Berlin, Germany (Weltexpress). Of course there are other famous Sicilians around, not as members of the mafia, but memorable figures in film, literature and music. But our favourite Sicilian, in Berlin at least, turned out to be Sebastian Bonsignore, an artist in the kitchen. Searching for a friendly place to have an evening meal or a lunch break not far from head office, this italian restaurant on Hausvogteiplatz surely is and will for ever be first choice in Mitte. We all agree that it is to the artist from Agrigent that we go. Now, what could we try today?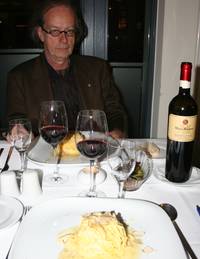 We decide to take a glance into the wine list first, before asking Sebastian (yes, without an o at the end) to suggest a tasty dish. And bingo – the Marco Bonfante Barbera d'Asti, Stella Rossa, Superiore, of 2007, a red with 13.5 percent is a real treat. The nectar comes from the Bonfante family, who since more than ten generations are winemakers in Nizza Monferrato. You will really enjoy their sense of well-being. We – and the Foreign Office, the diplomatic staff being regular guests at lunchtime, recommend as starter the classic antipasti with sun-dried tomatoes, onions, and olives.
Then up comes a Sicilian, whith the looks as if he sprang right out of of a spaghetti western by Sergio Leone, who takes great pleasure in serving us a delicious pasta dish with black truffles. These truffles come from Piedmont (as does the wine), and they are fresh when they arrive – on the plate, to be sure. But wait, the best is still to come from the waiter – that gorgeous durum wheat semolina pasta! They are also homemade and completely fresh, and specially prepared in front of the guests in the show kitchen. The tagliolini are formed two millimeters thin and twirl into a what lookes like woolen curl – but it certainly tastes delicious. Out of this extraordinary heap of pasta the golden-yellow sauce visibly smiles. Say cheese! This cheese, explains to us restaurant owner Bonsignore, is melted down with a special, neutral spirit and, on top of that, the chef always adds a nice shot of limoncello. Just lovely! This dish really makes you wish to come again.
What we recommend as main course and as dessert? Read Part 2 /2 of our coverage from the Diverso to find out!
* * *
Diverso, Hausvogteiplatz 10, 10117 Berlin