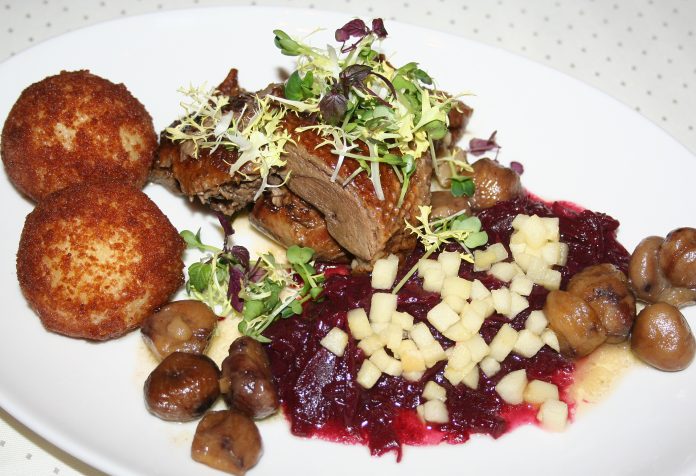 Berlin, Germany (Weltexpress). There is nothing better than making the holidays nice and easy. From 11 November to 26 December, 2014, the Maritim is offering a wonderful pre-ordered goose promotion with all the drippings and side-dishes to make your celebration memorable.
Do it the right way and give yourself a 48 hour pre-order treat – call the Maritim chef and you will be in for a culinary delight.
Why spend hours toiling in the kitchen when "call a goose" will lessen holiday stress.
On top of the order there is a grand Dornfelder red wine "give-a-way" from Weingut Lergenmüller that will capture the full essence of the festive meal.
For only 95 Euro you will be ready to serve at least four guests to a holiday treat that hits the spot.
The Maritim will prepare a magical meal where friends and family enjoy a pleasant surprise. Goose with the trappings also include apple red-cabbage, klossen, chestnuts and a tasteful sauce.
A wholesome way to go during the holidays – just let it happen.
Delivery is arranged by taxi – add the transfer to your bill and the goose will arrive in an attractive pan – ready to serve.
Gans to Go or Goose to Go is a unique promotion – the novel hoilday order will put a smile on your face.
Weltexpress Gourmet recommends the festive meal on wheels – beat the holiday stress with a relaxed state of mind.
Give the Maritim chef a call and your bird will be on his way. Happy Holidays!