Berlin, Germany (Weltexpress). Many, many years ago, the story of Stroh rum started. To be precise: 1832, according to our time calculation. At that time, so the story goes, Sebastian Stroh, born in 1792, died 1852, had produced his first schnapps in the small, tranquil St. Paul in the Lavant Valley, and thus laid the foundation for a Carinthian success story, which is far-reaching the limits of Austria. The company was founded the same year.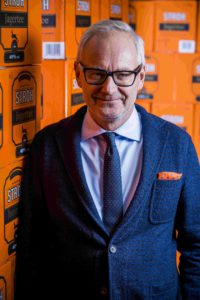 Anybody who does not know these beautiful bottles with bright orange labels, the magical number 80 and that wonderful word "Original"? The liqueurs and brandies of Stroh from Klagenfurt have been convincing with their unmistakable flavour since 185 years, but the classic is and remains Stroh Original 80. The taste is passed on from generation to generation. To this day, the native rum of Stroh has been held as a spirits specialty, which is their permanent place in kitchens and dormitories, inns and bars in many countries round the world, and that is worthy of all honour.
Harold Burstein, Managing Director of Stroh Austria GmbH, who runs the company now, knows all about it when he says: "We're at home from the Christmas market to the international star kitchen and from the ski hut in Austria to the trendy bar in Cape Town for example." The fact that the familiarity with the brand in Austria is" an emotional story "is one that you like to believe. But this is true not only in the land of the Habsburgs, but also in the land of the Hohenzollerns. Stroh smells sweet out of cakes and biscuits and all kinds of flour, which taste just right with the right rum. This was not only a treat for parents and grandparents, but even for children.
Burstein: "For generations, Stroh has stood for bakery tradition and sugar bakery art, which has also made the local flour-meal cooking, which is closely linked to the coffee-house culture, so popular internationally. We're proud of that. "Exactly. Next cake will be with Straw Original 80!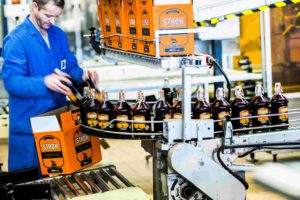 According to the manufacturer, the typical curved bottle shape of the bottle originates from the US-American prohibition period, in which it was important "to hide the pleasure product easily on the body and to transport it unintentionally". Especially today, the Stroh bottle is a designer icon, which belongs to the Stroh family tradition and "gained international attention for the first time in the 1970s under Hanno Maurer-Stroh".
In other words: form and content that fits well. Cheers with a good mouthful of Austria, in which "the Spirit of Austria" is part of the content. Stroh Original 80 is taste for generations and always goes as grog, punch and "Jagertee", fits perfectly in cocktails and cakes, tarts and trifles, and tastes in various desserts.