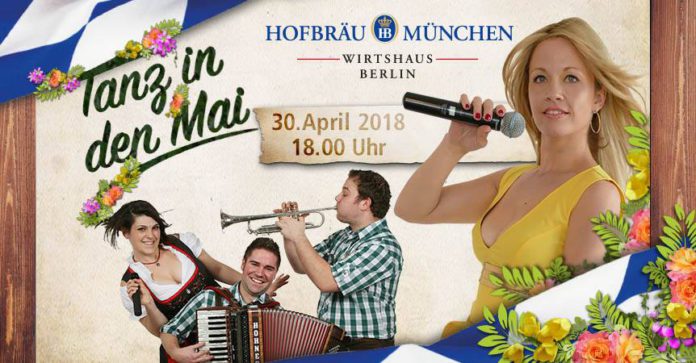 Berlin, Germany (Weltexpress). Not long now, then it's time again: for a merry May Dance. The sun is already warming the walls of the houses, the hearts of the people and the meadows or "Wies'n" on which they will swing happily to and fro.
In Bavaria there are still a lot of "Wiesn", but none really in Berlin, and that's why people dance inside and not outside, where`s "koid san koan, da Abrui mocht, wos a wui!" Got it?
If you're not enough into Bavarian talk and habits in Berlin, then Hofbräu München, Wirtshaus Berlin, Karl-Liebknecht-Strasse 30, 10178 Berlin, is a good choice – always with food and drink – and especially on April 30, 2018, from 6 pm, when you can dance into the month of May until 1am in the morning.
Breathless into May
Berliners and visitors can have a go at that thanks to the "fantastic Helene Fischer double show by Lena Berg ", says Christian Gohl, Managing Director of the Bayerische Wirtshaus Berlin GmbH, and he is certain that not only will folks be dancing to pop music, but also as Bavarian humour will come alive with the Oktoberfest band "Die Lausbuba". The Lausbuba band had "already rocked the opening act with Peter Wackel and Anna-Maria Zimmermann," adds Gohl, pointing out to another highlight in the capital.
Try a "Schuhplattler"
Ever put a Schuhplattler on the floor?" asks operations manager Marcel Werner. Nope, say us, not yet. "Come to the May, Dance" Werner tells us, "and experience the 'Quer-Plattler'. They show you and everyone else how it's done." We will come!
And make a reservation. Admission is free and the Hofbräu-"Hut" on the Karl-Liebknecht-Straße will probably again announce "full house" as recently during the Easter brunch.
Remarks:
More about the Easter brunch in the contributions "Easter brunch on April 1 and 2, 2018 at Hofbräu Munich, Wirtshaus Berlin" and "Lets go for eggs and more – Easter brunch at Hofbräu Berlin", both by Christopher Prescott, in WELTEXPRESS, English Edition.
* * *
Christopher Prescott based on a text by Ole Bolle.