Berlin, Germany (Weltexpress). Key shots down the stretch lifted Alba Berlin over MHP Riesen Ludwigsburg, 91 – 88.
Berlin swept Ludwigsburg in the overall semi-final series (3 – 0).
In a closely contested match and despite several leads, the home team prevailed and advanced to the finals.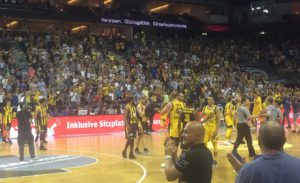 Berlin's Spencer Butterfield (19 points), Marius Grigonis (16 points) and Dennis Clifford (10 points) were top scorers.
Ludwigsburg had six players in double figures, but could not close out the game. Berlin cleverly took control of the boards and were excellent in transition. What carried Berlin throughout the series was its strong bench support.
In the other semi-final, FC Bayern Munich lead Brose Bamberg 2 games to 1 and hope to gain the finals berth on Tuesday.
Alba Berlin beat Bamberg twice during the regular season and spilt their head to head with FC Bayern Munich. Whatever the outcome between Munich and Bamberg, Berlin is poised for the challenge.
An electric fan base of 10,387 spectators supported the Albatross – standing ovations and a chorus of "Finals, Finals…" proves that the arena will be filled to capacity.