Helsinki, Finland (Weltexpress). Location: Lübeck-Travemünde Skandinavienkai and a vast collection of cars ahead. Our bright red kayak PERO on the roof of a silver-coloured Lada Vesta SW Cross appears to float above the sea of ​​tin – like a lifeboat.
Midnight: embarkation begins. The stern flap of the 218 meter long FINNLADY is wide open. It takes time for a station wagon with brightly flashing all-round lights to guide one vehicle line after the other across the spacious terminal with its winding paths into the throat of the Ro-Pax (goods, passengers) ferry. In addition, the 46,000-ton giant also swallows a lot of unmanned trailers and trucks with drivers. A total of 4.2 kilometres of vehicles can be parked on board. Enormous!
In front of the elevators to the passenger decks, holidaymakers on their way to Finland and those returning home to Suomi with their hand luggage on board. Soon the tired travellers disappear into their chambers, after a long haul, oversleep the departure at three o'clock in the morning and look forward to the first day at sea. Before that, however, watches have to be reset, because Finnish time applies on board, i.e. one hour plus. After all, you're heading northeast.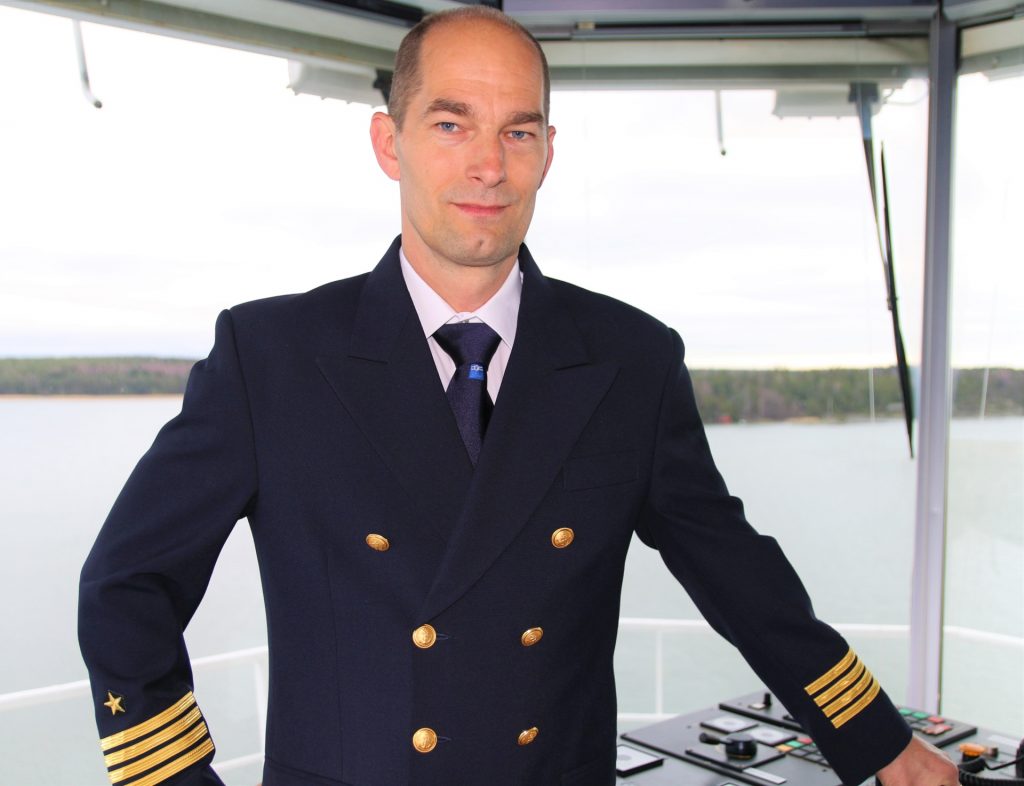 Relaxed romping
The daily program not only promises a lot for the hungry: from a small breakfast with rye bread and reindeer meat in the "Star Café" to the large brunch buffet (where you can have a go twice) in the "Mare Balticum" restaurant to the "Sailors Shop" with duty-free goods, a lot is offered here at not exaggerated prices. By the way: Early booking passengers can look forward to substantial discounts, as the Finnlines shipping company advertises for its three liners on the Finland route.
You can frolic in the sun on the spacious decks while the kids let off steam in their play area. The on-board saunas are also popular. The truck drivers have their own to really relax here before going on a long journey.
All of this makes you hungry, which you can effortlessly satisfy at a sea day dinner in the "Mare Baltikum". With pleasure, mind you. Wine, beer and soft drinks for free going to Finland – on the way back you have to pay, so as not to seduce drivers unnecessarily.
On the bridge, the helmsmen watch over a safe course, which the captain Pekka Stenvik who can speak five languages has set in advance. His many years of experience and the vigilance of the crew guarantee a safe and varied crossing to Helsinki-Vuosaari. On the return journey you unfortunately only have one night on board, "to guarantee a high circulation", explains Pekka from Turku, who has found a dream job with his "lady". His colleague, Second Officer Justus Nyquist, was born in Potsdam, but out of love for the country and its people, he lives with his wife and children on a lonely island in Lake Inari in Lapland. We get along straight away after he found out about my "northern whimsy".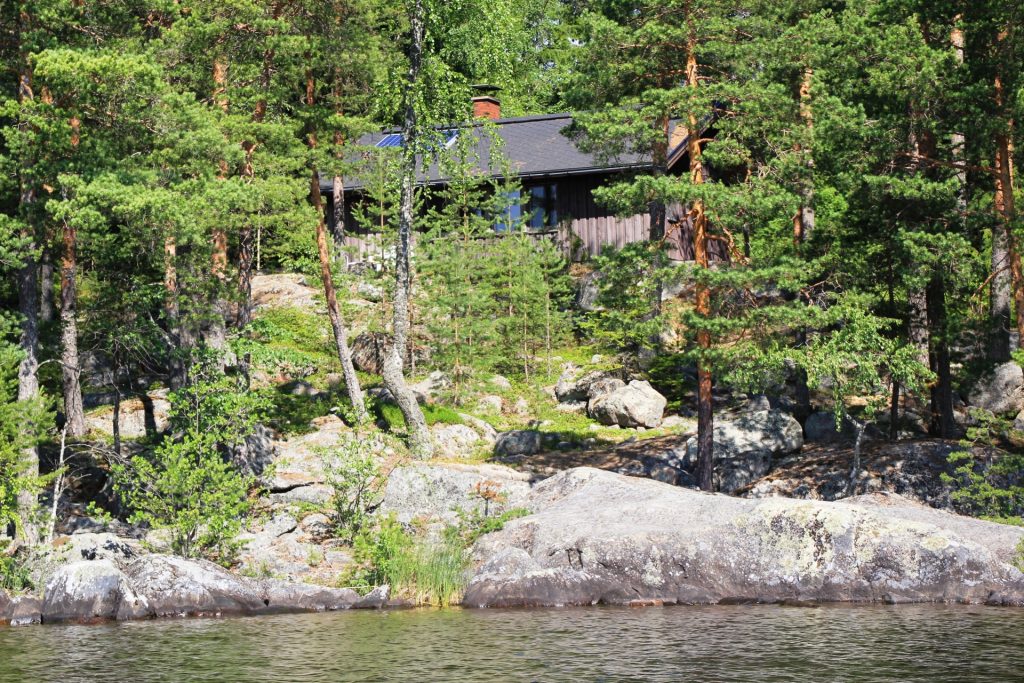 Finally there!
Done! After a brisk 23 knots trip with a holiday-ready cruise atmosphere over the kayak-quiet Baltic Sea. It takes a few leisurely hours by car – without the stress of German traffic – to "our" holiday home, in Finnish "mökki", in the middle of the lake area. The solid line of cars will, thank God, diminish right behind the Finnish capital. As it has been for 50 years when I set off for the first time to the far north. Finnlines has always been a reliable transport partner, even with winter ice.
Up and down hills, through dense conifer and birch forest trellis, the hardly used asphalt strip winds. More and more often, a seascape of up to 188,000 can be glimpsed through the woods. The oldest rock in the world, the granite Baltic Shield, and the ice ages were the inspiration for this attractive landscape trilogy of forest, water and rock.
In order to even find our hut – it should belong to us for the next three summer weeks – the navigation system with the exact address is an indispensable aid.
Last piece: a kilometre-long dry gravel and sand track, on which the car can skid like in winter on an icy surface. The kayak soundboard amplifies the bloodcurdling shaking of the corrugated iron runway. Impenetrable dust clouds obscure the view to the rear: end of the desert-forest route. In front of us on a tree-lined 700 meter long island, our log cabin and all around the lake. Far and wide no neighbour's house to be seen.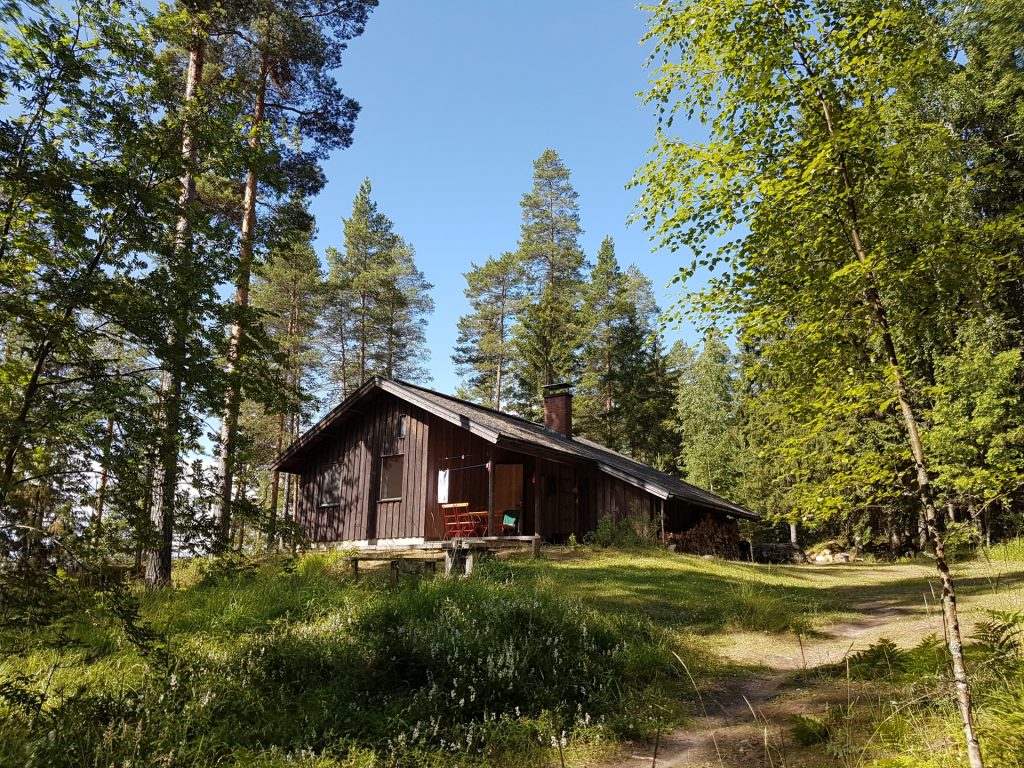 Finnish cabin comfort
First "official act": unloading the boat and "baptism" with lake water from Näsijärvi as the over 100 kilometres long water north of Tampere is called. "Tervetuloa! "Welcome!" The owner has come to our reception from the city 35 kilometres away. He takes us – and our luggage, which consists mainly of solid and liquid food – over to the island in a motorboat. He familiarizes us with the house in German. This of course also includes a rowing boat, sauna, stove, refrigerator, water pump with filter system and fireplace. Gas, wood and even solar power are our energy sources.
Both sides are satisfied, and the friendly Finn says goodbye, as is customary in the country, with: "Näkemiin!" "Goodbye!" And rushes off with a wave. We are all alone here with the greatest possible distance: 17 kilometres to the next supermarket. Should there be any problems, owner Anders can be reached on his mobile phone. By the way: The reception here "in the middle of nowhere" is better than in some German dead zones. But you should make as little use of it as possible if you care for a relaxed holiday.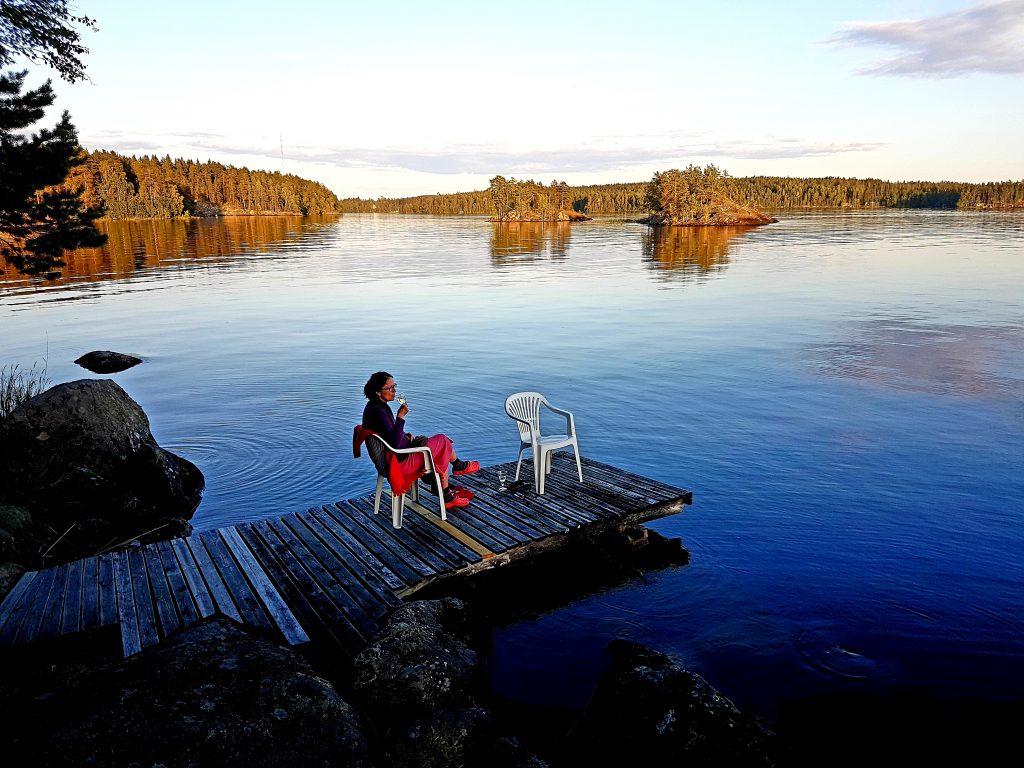 House instead of tent
Alone in the wild! All around, according to the map and appearance, only the typical landscape elements. Above all: lots and lots of water, the ideal kayak area. In the past, such a tour was only possible in a tent. Today, "a little older", we look forward to the cosy house with its modest comfort. To crawl into a wet tent when it rains – no real joy. After a long day kayaking trip, sweating in your "own" sauna and then sitting in front of the crackling fire with a typical "Karhu" beer – a very pleasant feeling. In addition, this is the typical form of vacation.
The huge lake area offers so many touring possibilities – even with the house rowing boat if you are without a kayak – that can be undertaken from the respective location. The landscape does not change significantly, so that we can do without a hike in the classic sense. Farewell to being a mile-cruncher.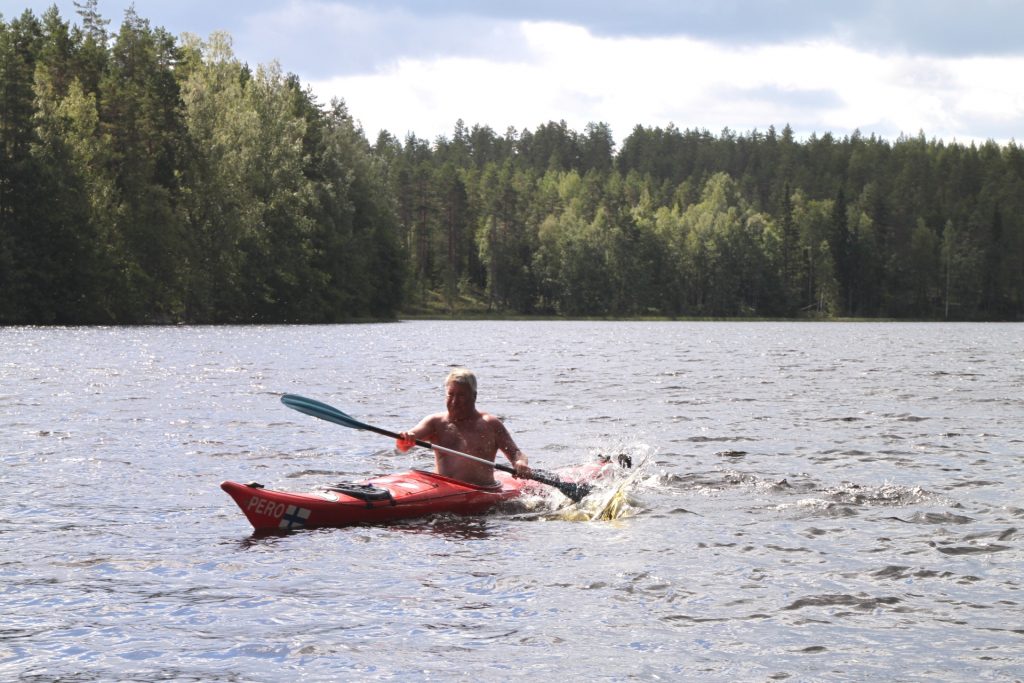 Location-bound, but boat active
We are amazed at what you can do in the vicinity of a Finnish hut!
After the morning toilet – there is a dry toilet for "the other" – from the landing stage, where the boat is moored, we first go on a "control tour" to check the fish traps – the "supper" could be in there. A troll for pike and pikeperch does it too: allowed and licence free. The water is so clean that even crabs and whitefish feel comfortable here.
A circuit is marked out on the topographic map (preferably 1: 20,000), which is easy to paddle or row with breaks. Sometimes it goes over the open lake, so that the sea kayak PERO reacts with waves; sometimes through narrow rock channels and past dozen of islands. Their smoothly ground humps with inlet bays carved out by the ice tempt you to moor: nudist bathing in the clear lake, sunbathing on warm rock, picking blueberries or mushrooms – or just taking a relaxing nap. Let your soul dangle from the boat, that can be done splendidly here.
For "five o'clock tea", depending on your mood, but without a watch, we tie up again at the jetty of our as we see it home.
The sauna should be heated up (it takes about an hour to reach the temperature to sweat, between 60 and 75 degrees Celsius); maybe wood needs to be chopped – there is plenty of it, but the work is fun – or water next to the stove needs to be added.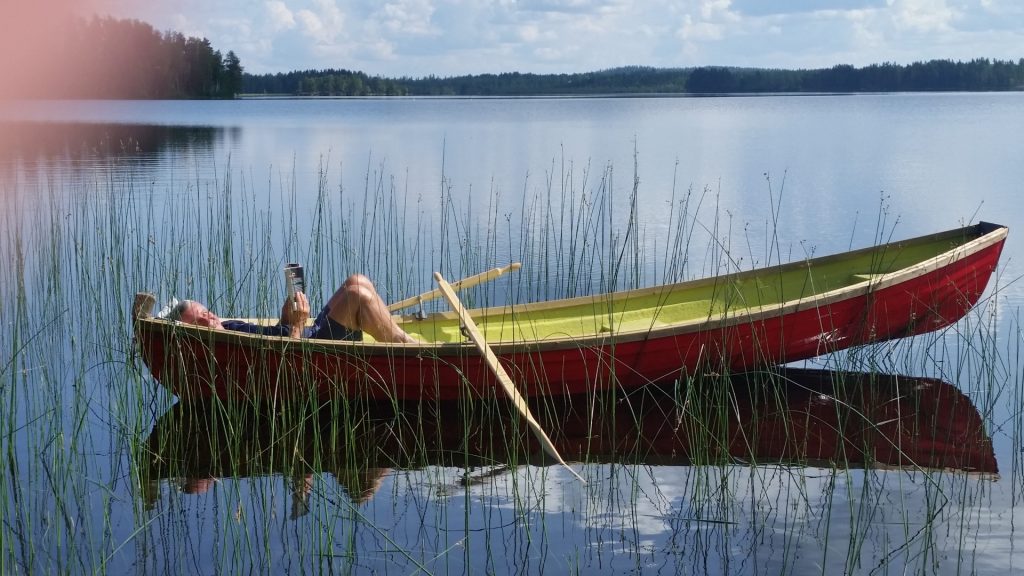 Protect against prejudice
Interlude: The intense evening light is ideal for hobby painters, for watercolour and photography. Our four private islands around the house are perfect locations for this. They serve all kinds of bird species such as Canada geese – they can even be fed from the jetty – cranes, rare ducks and divers as resting and resting places.
By the way: You can easily protect yourself against the number one prejudice in Finland, "mosquitoes"; the number two is called "cold". Have you ever heard of "continental summer warmth" at school? Well, well, we've had enough of them a few times with 32 degrees in the shade. Apropos: We took almost everything in the car from Germany with us in terms of food (some things are much more expensive in Finland, especially alcohol). In addition, the nearest shop is a long way from our hut. It makes sense to draw up a menu plan at home so that you don't get into "food shortages". Besides, we don't want to drive a car! We supplement vital vitamins from blueberries, cranberries and raspberries free of charge during our strolls directly from nature. There are also chestnuts, birch mushrooms, chanterelles and other types of mushrooms.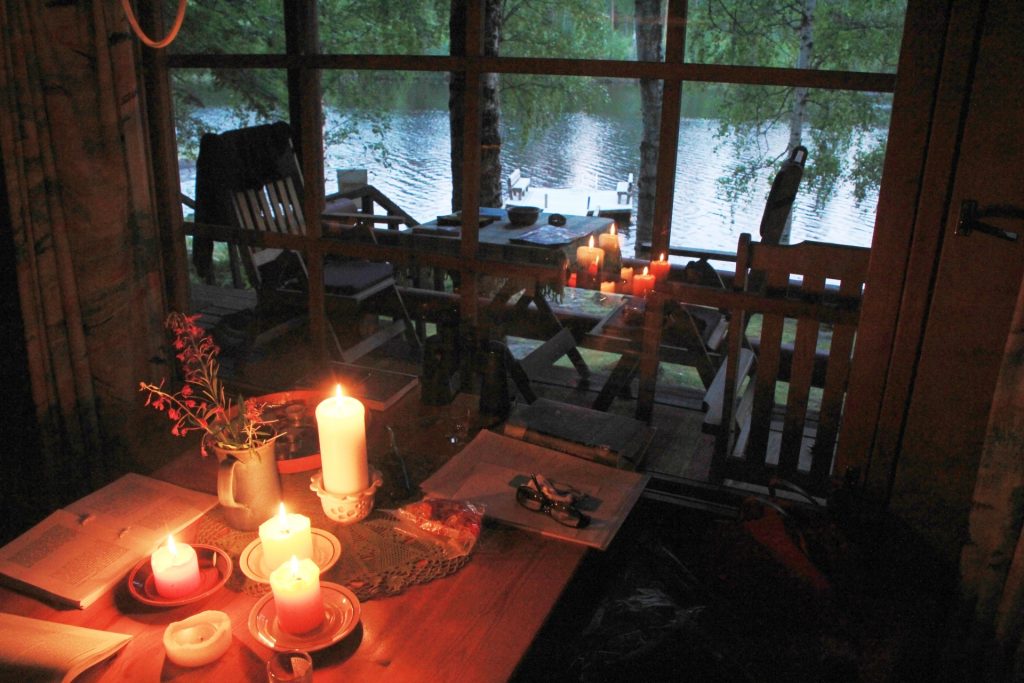 Long nights
After the sauna jump in the lake to cool down, then enjoy an ice-cold beer for dinner on the terrace with a 180-degree view – double the pleasure! In front of us the forest and the lake shine in the last golden evening light. The end of the day kayak trip at sunset just has to be. On a kilometre-long glistening path through the middle of the eight kilometres wide, still lake level an infinite feeling of calm flows through us. I am reluctant to destroy this image by paddling. The high, wide midsummer night sky glows in all shades of red for a long time, while we only leave circles of waves.
End the day with games, books and wine. Candles and a fireplace provide atmospheric light and warmth as the pines rush us into a cosy sleep.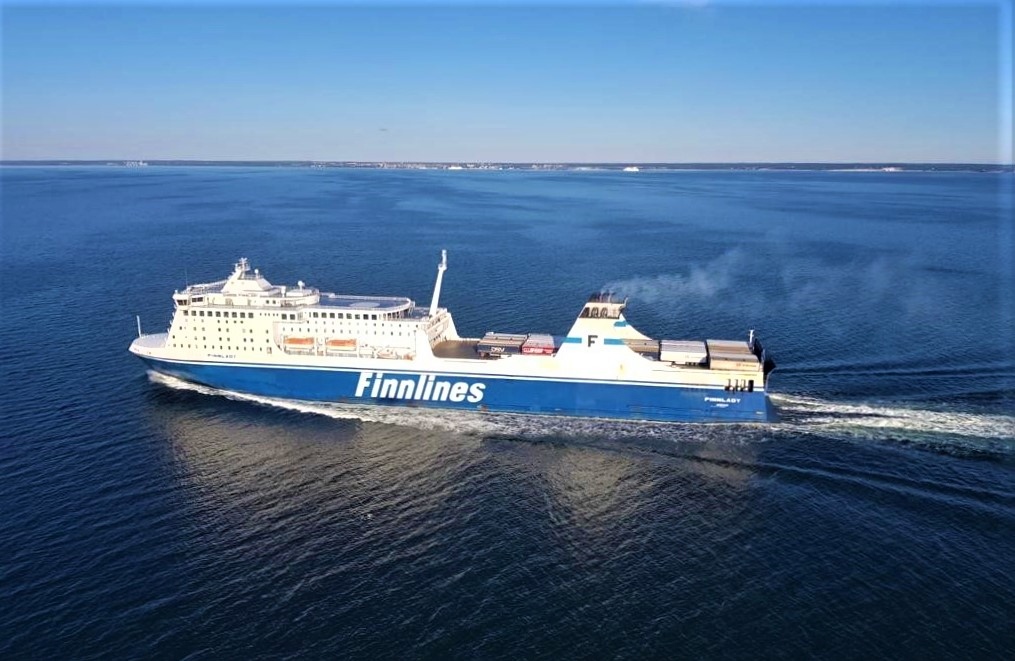 Info:
Maps of Finland: through every bookstore (Topografinen Kartta 1: 20,000, 1: 100,000); Route overview map 1: 800 000 is sent to you with the travel documents.
Food: put together according to your own ideas and take with you from Germany, including drinks. Cool bag recommended for transporting sensitive products. Kitchen utensils and dishes are available. In the Finnish supermarkets you can add to your provisions (fruit, vegetables, dairy products, meat, eggs, etc.). To make it easier to pick blueberries, you should also buy the appropriate combing device there. We also recommend freshly smoked or fried whitefish – called "muikku" – at the local markets.
Clothing: as little as possible, as much as necessary – jogging suit, sweat and t-shirts, sneakers, slippers, rain gear. The warm sauna water can also be used to quickly wash something through and dry it in the sauna overnight. Otherwise, women / men can walk around in the nude, provided they can and like to.
Bed linen: bring along, as well as body and tea towels.
Coal lighter: with this, sauna and fireplace fires can be lit without any problems.
You should also think of mosquito repellents, sauna concentrate, books, games, candles, bathrobes and slippers. A small medicine cabinet is advisable.
Don't be afraid of transport problems: most cars can easily accommodate all of this. It is best to create a checklist beforehand that can be used and supplemented again and again.
Holiday home providers: you can find plenty on the Internet, e.g. B. Finntouring, Interchalet etc. There is a large selection for different requirements. You should also pay attention to how far away the next holiday home is. Otherwise you may be in for an unpleasant surprise. Most providers do not state this important information, so you should always ask – coming to Finland looking for calm and tranquillity.
Ferry crossing: www.finnlines.de
MS FINNLADY (sister ships on the Travemünde-Helsinki route: FINNSTAR, FINNMAID); five other ro-pax ships on the routes between Germany, Sweden and Finland; Builder: Fincantieri, Italy; Year of construction: 2007: GT: 45,923; Length: 2018.80 m; Width: 30.5 m; Draft: 7.10 m; Loading meters: 4200; Main engines: 4 x Wärtsilä a 10,200 kW; Bow thruster: 2 x 2000 HP; Call Sign: OJMQ; IMO: 9336268; Nationality: Finland; Home port: Mariehamn: Finnlines shipping company, part of the Grimaldi Group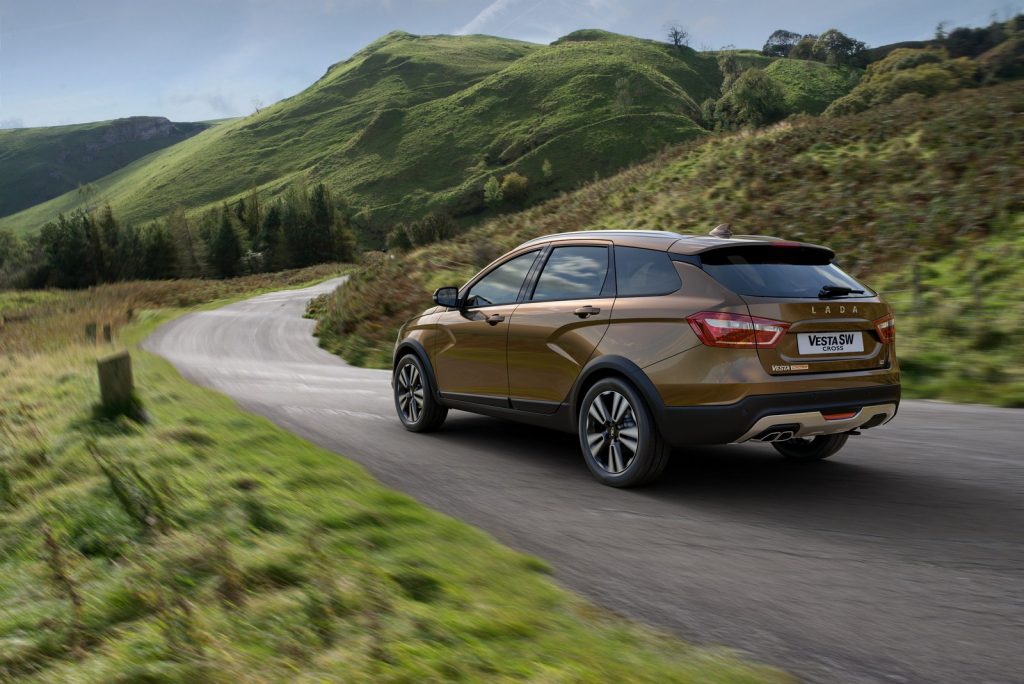 Lada: More about Lada at www.lada.de in the world network.