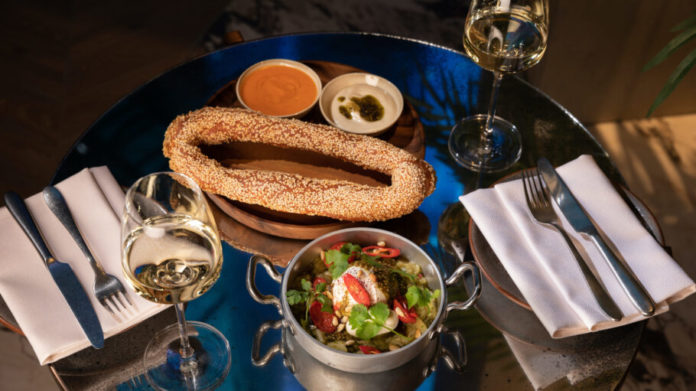 Berlin, Germany (Weltexpress). It's heavenly on both sides of the Spree in the very heart of Berlin. For last Monday, March 28, 2022, the "Balaustine" restaurant opened with a terrace onto the river and only a stone's throw from Berliner Dom, the Kaiser's cathedral. Over here on the eastern side, deliciously tasty meals from the Orient are prepared in front of guests with gusto and immediately served in a charming way.
"Balaustine" means the red rose-like blossom of the pomegranate tree and it blooms with these dishes. Start with appetizers and indulge in hummus with pomegranate, Levantine chimichurri and dukksah right at the start. Don't pick a piece of bread, just choose everything: Jerusalem bagels, handmade oven-fresh pita and aha, challah. The latter bread is served with whipped tahini and a velvety tomato sauce. It looks very tasty and what we from WELTEXPRESS Gourmet are offered at the invitation of Nabil Salim, who works as a restaurant manager, not only greets the eye, but tickles the palate considerably. The dishes are wholesome like all these marvellous mezze in the "Balaustine".
And mezze is a must, although this does not apply to starters a priori, but to the way it is served. That the kitchens of Turkey and the Levant or Lebanon and of Israel have a certain influence on these mezze cannot be denied and Oriental taste certainly is delightful. Labneh and so roasted beetroot with dill, hazelnut dukkha is a must and so is Zaatar Burrata, are aubergines grilled on charcoal and fontated tomatoes. Great!
Don't miss the crispy Jerusalem chicken with harissa, yoghurt and sesame, nor the well-roasted cauliflower. The menu puts it as "Labneh, Zchug, crispy chickpeas and pea sprouts" for this dish. Zchug, also spelled S-chug, is a Yemeni condiment that is an integral part of the Levantine and Middle Eastern cuisine. Laban, also spelled Labaneh, is actually a cream cheese or an Arabic sour milk product comparable to yoghurt, which is made from the milk of cows, camels, sheep and goats. From here, we go on to the tandoori beef kebab with hummus and herbs, gastrosophically. If this and that hasn't a delicious scent, is delightfully made up and deliciously tasty, what then?
After these noteworthy and tasty appetizers and main courses, which also had the gout like a meal from a fairy tale out of the Arabian Nights, guests of the "Balaustine" should actually avoid the hip gold. But who can say no to this baklava croissant with pistachio and nougat ice cream or to the vegan Malabi Mess, a fancy mix of halva, rose water and pomegranate?
The Middle East may not in reality be within reach round Berlin's "Balaustine", but it really is in the dishes. Before you step onto the carpet or board the plane to fly down there, you should definitely prepare yourself and taste the treasures of the Orient in the restaurant
Balaustine
Address: Vera-Brittain-Ufer, Karl-Liebklnecht-Str. 1, 10178 Berlin
Contact: Phone 0049 (0)30 238280, Mail info@balaustineberlin.com
Open: daily from noon to 11 pm, dress casual to smart
Remark:
The above article by Ole Bolle was published in WELTEXPRESS German on April 1, 2022 and transfered by Christopher Prescott for WELTEXPRESS English.